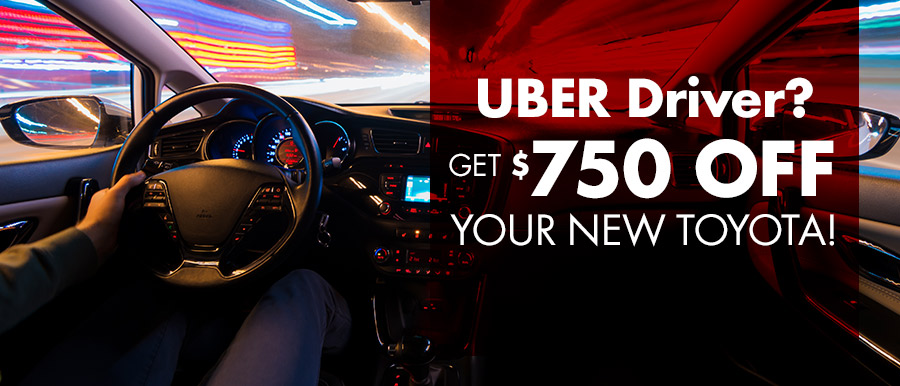 2017 UBER DRIVER INCENTIVE - PROGRAM GUIDELINE
Effective Dates:
Must take retail delivery from April 4, 2017 through May 31, 2017.
Vehicle Eligible for $750:
New, unused and unlicensed Toyota vehicle purchased from dealer's ground stock inventory.
$750 on all model years:
Camry (Gas & Hybrid)
Avalon (Gas & Hybrid)
Prius Family (Liftback, C, V, Plug-in)
Corolla
Sequoia
Sienna
$750 on 2017 model year:
Customer Eligibility:
Customer must:
Purchase or Lease a New, unused or unlicensed Camry, Corolla, Avalon, Prius Family, Sequoia, Sienna, 2017 Corolla iM and Yaris iA (as specified above) from ground stock inventory through a participating Toyota Dealer.
Provide a copy of the Uber driver profile page showing an Active status.
Incentive is available to any qualifying Uber driver active status regardless of financing /lease source.
Sign and Complete the Uber Driver Incentive Certificate.
Dealer Redemption Instructions:
Uber driver goes to Toyota dealership and identifies him/herself as an Uber driver.
Dealer representative logs into Uber Incentive Program website (toyota.incentivedriver.com) and enters their User ID and Password to log into system. First time dealer registration instruction are shown below.
Dealer representative enters the Uber Driver's email address and last name for validation (search can be done by entering first few letters of the Driver's last name).
Uber driver information is displayed (name, address, email, mobile number).
Dealer representative prints certificate with driver's information and the vehicle to be purchased.
If certificate is misplaced or lost, dealer associate can print another certificate. The certificate will be watermarked as duplicate and labeled as Version 2.0
Uber Driver receives $750 off the negotiated price.
Program compatibility:
Program is compatible with other Toyota Incentives offered during the program period. Retail purchases are eligible for Toyota Care.
Terms and Conditions:
Offer valid on all eligible purchase or leases during eligibility dates specified on this certificate.
Offer valid on any new, unused and unlicensed, Camry, Avalon, Prius Family, Corolla, Corolla iM, Sequoia, Yaris, and Sienna (as specified below) purchased out of dealer's

ground stock inventory

during the program period and registered with the appropriate state motor vehicle department. Fleet purchasers are excluded.
Must be 18 years of age and have a valid driver's license.
Offer void where prohibited.
Only the original customer signed certificate will be honored. Mechanical reproductions or facsimiles are not valid.
Ineligible Sales
All category "J" car and truck sales
All TMS Special Purchase Program (Type Sales Code 02) car and truck sales.
Vehicles reported sold during the program period and subsequently rolled back
Vehicles sold in violation of Toyota's export policy
Vehicles traded from one dealership to another are ineligible for the trading (sending) dealership
All vehicles sold to conversion companies
Vehicles sold to a broker, used-vehicle dealer, or any other reseller that are not delivered to the ultimate consumers during the program period.
Vehicles that are not officially registered with the appropriate state motor vehicle department.
Vehicles utilizing dealer or other similar plates which preclude the need to register the individual vehicle with the appropriate state motor vehicle department.
Vehicles placed in dealer demo service.
Vehicles purchased through authorized Toyota auctions.

*The following sales will be ineligible unless explicitly approved by Toyota Motor Sales, USA, Inc.

Vehicles registered to any Toyota distributor or dealership or to any business corporation in which any Toyota distributor or dealership has ownership interest.
Vehicles sold to a Distributor-owned or Dealer-owned rental company.
Sales of more than 20 vehicles of the same series/model to any one account in the same program month.
All certificates are subject to audit. Any rollback or invalid certificates will be charged back to the selling dealer.
All matter of program eligibility and qualification will be conclusively resolved by Toyota Motor Sales, U.S.A, Inc.
Toyota Motor Sales, U.S.A., Inc. reserves the right to change product specifications at any time without incurring obligations.
*Plus, tax, tag, registration, title, dealer added options if applicable and dealer fees $899. Cannot be combined with any other offers. Must take delivery - April 4, 2017 through May 31, 2017.