At Headquarter Toyota, we are honored and proud to be the multi-time recipients of such prestigious awards as the Toyota President's Award, President's Cabinet and Sales Excellence Award. Every day, we strive to persevere to create the very best buying and service experiences for you, our customers, and although it feels great to be consistently recognized as one of the nation's top Toyota dealerships, it feels even better knowing our customers are happy and satisfied.
Over 1 Million Happy Customers Served, 25 Years Serving Our community!
Below is a list of all the awards we have won over the last twenty years...
Toyota President's Cabinet Award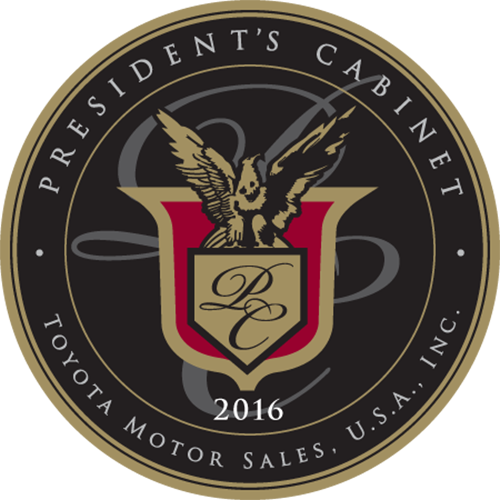 The President's Cabinet Award is Toyota's most exclusive and prestigious honor. With only 12 dealerships in the country receiving this elite award, recipients are recognized for a combination of operational superiority, high volume sales, and most importantly, outstanding customer satisfaction performance.
To be chosen for this award, Headquarter Toyota was both a Board of Governors and a President's Award winner and was one of the top 12 dealers ranked with the highest Sales Satisfaction Index (SSI) score in the country.
Years Won: 2006, 2007, 2008, 2009, 2010, 2013, 2014, 2015, 2016
Toyota President's Award
Each year, Toyota Motor Sales recognizes its top dealerships with the distinguished President's Award. Only those dealerships who have demonstrated a commitment to maintaining Toyota's high standards for customer satisfaction have this honor bestowed on them.
In order to qualify as a President's Award winner, dealerships must excel in each of a series of categories, including Customer Sales Satisfaction, Customer Service Satisfaction, and Parts Volume.
Years Won: 1991, 1992, 1993, 1994, 1995,1997, 1998, 2002, 2003, 2004, 2006, 2007, 2008, 2009, 2010, 2011, 2012, 2013, 2014, 2015,2016
Toyota Board of Governors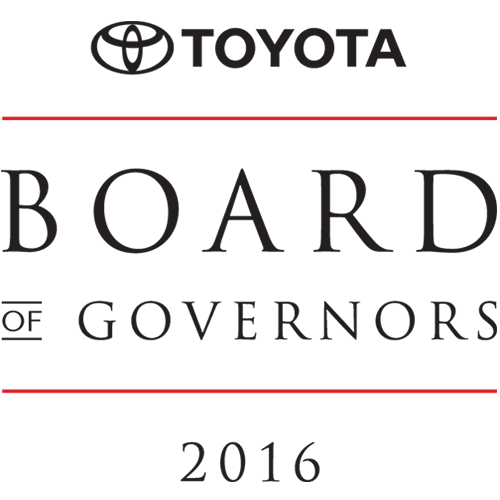 Every year, a select group of dealerships are honored by Toyota Motor Sales for their sales success, hard work and dedication with the Board of Governors award.
To be chosen for the Board of Governors award, a dealership must be among the top 60 dealers in nonfleet vehicle sales volume, must be in operation for the entire year, as well as meet numerous other requirements. These high standards ensure that a Board of Governors dealer is committed to the highest levels of customer satisfaction.
Years Won: 1991, 1992, 1993, 1994, 1995, 1997, 1998, 1999, 2000, 2001, 2002, 2003, 2004, 2005, 2006, 2007, 2008, 2009, 2010, 2011, 2012, 2013, 2014, 2015, 2016